New virtual fundraiser to save UK charities launches across the country.
The 2.6 Challenge aims to raise £67m by the end of April. This is to replace donations lost in cancelled mass-participation events due to Covid-19.
The main campaign day will be 26th April, when the London Marathon was scheduled to take place. The marathon raised £66.4m last year and will hopefully take place in October.
We, at Sunshine & Smiles, understand this is a difficult time for many and we want to virtually bring people together as much as we can. We love bringing families and supporters of the charity together through fundraising activities and are disappointed that these can no longer take place this year. We will let you know if events like Leeds Half Marathon, Yorkshire 3 peaks, and other fundraisers will reschedule.
In the meantime, we have an incredible opportunity to take part in this new fundraising initiative.

Save the UK's Charities campaign are asking the public to take part in a 2.6 Challenge by doing a physical activity as long as it complies with social distancing guidelines. This could be running 2.6 miles, jumping 26 times on the trampoline, 26 laps of the garden, or anything using the numbers 2 and 6. Households or individuals can set up fundraising challenges via the 2.6 Challenge website and select their charity of choice.
Funds will be raised through the Virgin Money Giving and Just Giving platforms, and people can choose to donate to a specific charity or donate to a central pot.
Setting up your fundraising page
Go to the 2.6 Challenge website
Click "Fundraise Now"
Select to fundraise via either "JustGiving" or "Virgin Money Giving"
Click "Fundraise" and connect to JustGiving / Virgin
Log into your JustGiving or Virgin fundraising account
Click the "Connect your JustGiving" / "Connect your Virgin" (you may need to click "connect to" multiple times before it takes you to your Fundraising Page. The site is receiving a lot of traffic)
Give your Fundraising Page a title and search "Sunshine and Smiles - Leeds Down Syndrome Network" and select as your charity.
Visit your page, customise, and use your link to share with friends and family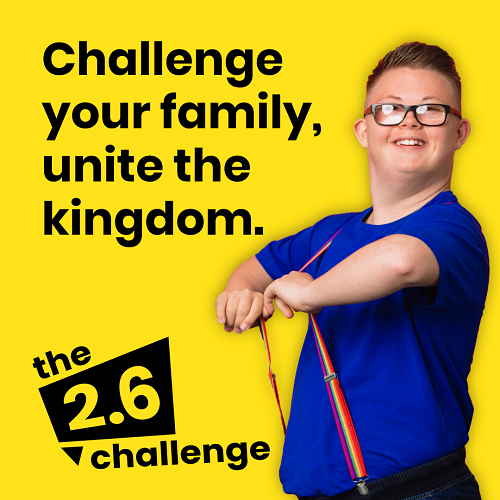 Once you have set up your fundraising page please let us know what your #TwoPointSixChallenge is and we can share your fundraiser on our social media channels. If you need any help setting up your page, please contact kerry@sunshineandsmiles.org.uk and she can advise.
If you want to donate to the Sunshine & Smiles 2.6 Challenge but are not hosting your own fundraiser you can head to this link and type "Sunshine and Smiles - Leeds Down Syndrome Network" in the search box - Donate to Sunshine & Smiles 2.6 Challenge
Alternatively, you can donate to the #TwoPointSixChallenge central pot which will be divided between all charities involved - 2.6 Challenge Central Pot
Thank you! This is a hard time for many, and we hope our involvement in this initiative can bring us together. We look forward to seeing what people are doing for their challenge.
More news articles